A quick look at Uni High Girls Soccer
With the Spring sports season just starting, Uni High Girls Soccer is showing a promising start. The JV girls have already won multiple games with varsity winning 4 since the start of their season. Although the team is heavy with sophomores and freshman, the team doesn't fail to stay connected. 
Senior captain Maxine van der Donk says, "I feel like other sports can be very separated into upper-classmen and under-classmen, but I feel like soccer is doing a good job since everyone talks to everyone." Team bonding has a large role to play in this lack of segregation, as the team has a secret buddy system and often does dress-up days. Outside of school, girls soccer also spends time together by getting ice cream together and other group activities.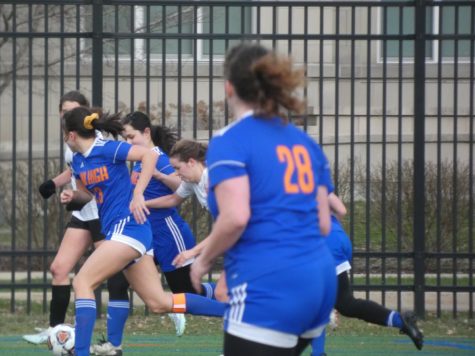 Senior Anna Park noted their team trip to watch and support a Uni Boys Tennis Match.
"It was a great way for us to spend time together by all rallying for the tennis boys." 
The team is very fortunate to have a total of 32 players, compared to past years where they have had to struggle with just 21. Although there are many young, first-time players, the coaching staff (Cora McQueen and Carlos Rodriguez) is doing a great job of balancing newer players on JV with more experienced ones on Varsity. 
Junior forward Makayla Blanke noted that, "Cora and Carlos are really good about going back to the fundamentals and making sure we perfect those." 
Ultimately, the girls soccer season is looking up. Be sure to catch their next game (varsity only) on April 18th at The High School of St. Thomas More!