The Uni Library's John B. Garvey Escape Room returns for another year of challenges
For the sixth straight year, the Uni High Library is hosting their annual "John B. Garvey Escape Room" for students from May 2 to May 6 in the library during lunch and Uni periods. 
The escape room is one of the most creatively structured and popular activities that the library offers for students during the year. The library staff is super excited to host this event once again. 
Escape rooms are rooms or sets of rooms that include various puzzles, locks, riddles, clues, and tasks for groups to solve. Escape rooms typically include storylines to complement the series of tasks that must be completed. Participants must escape the room using their communication and critical thinking skills to successfully work out all the puzzles before reaching the time limit.
According to Uni library assistant Charlie Newman-Johnson, who led an escape room committee of roughly eight students, this year's escape room storyline revolves around a library setting where the library dragon, commonly referred to as Pickles, has been kidnapped and taken to the "shadowy back room of the library."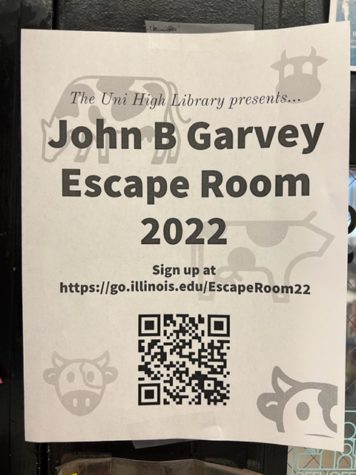 While the reason is not entirely clear, there have been whispers that a mysterious group called "the Moofia" has abducted Pickles, and the participants must solve the escape room puzzles to work their way to the back room and take Pickles back.
Newman-Johnson says the escape room was designed in hopes of anyone, no matter the experience level, being able to successfully complete the escape room within 20 minutes. 
"Our goal for this year is to make it relatively quick," Newman-Johnson explained. "The main goal is that people aren't going to get stuck on anything for a really long time, but it should present them with some difficulty, so if they get to the end, it will feel like they accomplished something. We expect the runtime to be about 15-20 minutes just so if you sign up for a lunch slot, you'll still have time to eat."
The annual John B. Garvey escape room is largely dedicated to the late John B. Garvey, longtime Uni French/Computer Literacy teacher and huge member of Uni's community, who passed away unexpectedly in April of 2021. Following Garvey's death, the escape room was renamed in his memory as the "John B. Garvey Escape Room." 
The one-year anniversary of Garvey's passing occurred on Apr. 19, 2022.
In addition to teaching students, Garvey contributed heavily to the development of the escape room every year and enjoyed completing the library's escape room in addition to other popular escape rooms around the Champaign-Urbana area. 
"One of the escape room's biggest supporters for a very long time was the late John Garvey… So starting as of last year, it's the John B. Garvey escape room," Newman-Johnson stated. "He had the record in a lot of escape rooms around town. He and his family were like escape room champs… He really loved working on it with us, so we are keeping it going partially in his honor and partially because escape rooms are fun." 
Uni librarian Domonique Arnold elaborated further about how holding this event is in remembrance to her friendship with Garvey. 
"The anniversary of his death was pretty hard for me. He was a really close colleague of mine. Beyond just the escape room, he was just a general champion of the library," Arnold remembered. "A lot of it is honoring his memory in a positive way. I don't think he would have been a fan of a whole bunch of doom and gloom surrounding us thinking about him. The fact that it's named after him but [also] this really fun thing, I think he would have appreciated that."
Newman-Johnson also added that the escape room is a testament to all the work Garvey had done behind the scenes at Uni: "I think it's just cool to put words to all the stuff he was doing behind-the-scenes that he was involved with at Uni. To make sure that gets remembered too."
Groups of up to five people can sign up for slots to take on the escape room. These slots take place either during lunch or during Uni Period, and anyone, no matter whether they have a group or not, can come to the library and participate. 
In comparison to past years, this escape room will actually feature a library-centered storyline which will provide a great opportunity for the escape room committee to design some new tasks.
"We've often had it in the library, but it's sort of been on and off whether the setting is actually the library," Newman-Johnson noted. "One fun thing about the setting being the library is we were able to design some book puzzles which, as librarians, we're really excited about." 
Newman-Johnson also hinted to the possibility of the library point system playing a part in the escape room as well. 
As of Tuesday, Apr. 26, two of the 15 group slots for the escape room next week have been filled. Potential escapists may sign up through the library's Escape Room Sign-up Form if they want to take on the library's escape room.
The idea behind this year's escape room theme came up quite abruptly during an early February brainstorming meeting with the escape room committee. Newman-Johnson remembers the moment quite vividly.
"The Moofia idea came out of our first meeting. In late February, we just had a brainstorming meeting just to get some ideas going," Newman-Johnson described. 
"I said, 'Who has an idea? Anything?'
"Someone raises their hand and says, 'Cows.'
"I say, 'Can you elaborate?'
"And they say,  'No.'
"I wasn't sure where that was going to go, but everyone's just like, 'Yes! Cows! Yes, we are into this.'
"We kind of just went from there."
Newman-Johnson also explained that this year's escape room provides some new aspects that should be fun for participants: "What's kind of neat about the structure of this escape room without spoilers: the front half is what you would expect from an escape room, the back half we are trying something a little bit different which should be pretty fun. There's also a big plot twist."
Escape rooms take large amounts of time and in-depth planning, and this year's escape room was no exception.
Newman-Johnson explained that the planning process extends quite far. 
"We started with our brainstorming meeting in late February. The goal was by the end of the March to know exactly what everything was going to be, even if we haven't made it yet," Newman-Johnson said. "We spent the month of April constructing, writing stories, figuring out how puzzles worked, testing puzzles… Because it's an escape room, some things need to get done before other things can get worked on. It's been a series of hurdles that we know we have to get over in order to finish up, and this year has gone pretty smoothly."
The library staff hopes that this escape room will provide some enjoyment and a sense of community bonding for Uni students as the school approaches the final few weeks of the semester. 
"It's something that got started my first year here as a librarian and it's just something that brings people together, [and] there's ways for different parts of the school to contribute to it," Arnold said. 
Arnold continued, saying, "We have a lot more students contributing to creating the escape room [this year]. Faculty will volunteer to test the escape room. It's one of those programs that's just fun. Since sometimes students can get stressed out at Uni, it's good to have some programming that's just a bonding opportunity for everybody involved."