Vegetarian options at the food trucks
Uni students and faculty have been blessed to have a variety of food trucks outside whose menus range from breakfast foods to Mexican food to American classics. However, they don't always cater to the needs of vegetarians.
In my opinion, Cracked does the best job of catering to vegetarians. Although a lot of their menu items contain eggs, there is a wrap specifically catered towards people who don't eat them called the "Plan B." Personally, it wasn't my favorite sandwich on the menu but it definitely wasn't bad. It had good flavors but I felt that they weren't that strong, being mellowed out by the flavor of the actual wrap.
If you eat eggs, I would heavily recommend the "Morning Bender." It is the cheapest vegetarian option on the menu and one of my favorites. It simply consists of bread, cheddar cheese, cream cheese, hash browns, and a fried egg and tastes amazing. The bread does not overpower the contents of the sandwich while the yolk of the egg adds extra flavor. This is personally my go-to. Another great option is the "Vegasm." It's almost a combination of the previous two in a wrap and you can't really go wrong with it. However, it is also the most expensive of the three and not really worth the extra money over the "Morning Bender." It also contains eggs.
Another option for people who don't eat eggs are the tons of different types of tots on the menu, including the classic tots, parmesan truffle tots, and the cajun tots. Considering this is what they're known for, their tots are definitely worth trying.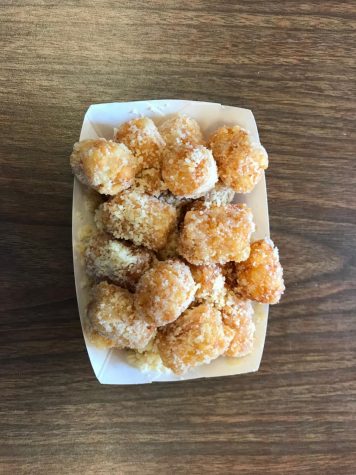 "Parmesan Truffle Tots" from Cracked
Next up comes Juanitos' Tacos. It's a mexican food truck with many of the mexican essentials such as tacos, burritos, quesadillas, and tortas. However, this truck does an even worse job at catering to a vegetarian's diet than Cracked. Most of their menu items require choosing a meat, and if you don't, you will pretty much be eating veggies on a tortilla or a bun. The only purely vegetarian essential that I would consider "worth it" is the burrito because it contains rice and beans along with the veggies. They also have simple things such as corn on the cob, but the number one thing I'd recommend are the nachos without any meat. They're topped with the works (jalapenos, lettuce, cheese sauce, beans, tomatoes, onions, sour cream, etc.) and come with much more food than anything at Cracked for a cheaper price.
Finally comes the new truck, TK's Cheesesteaks. If I'm only hungry for a snack, I would come here a hundred times out of a hundred. While they don't have any actual vegetarian friendly food, they do have "ballpark snacks" like nachos and cheese fries. The reason I'd go here instead of going to Cracked for tots is because you get more food for cheap.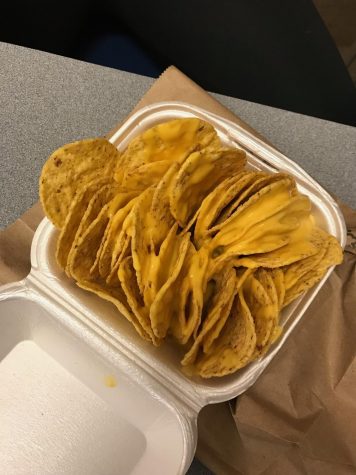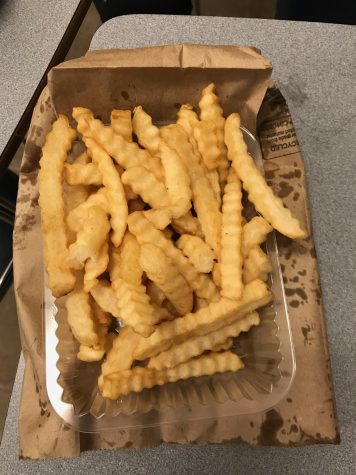 Nachos and Fries from TK's Cheesesteaks
The food trucks don't really make their menus with vegetarians in mind. Because of this, I decided to ask them all if they are willing to take customized orders (Example: remove the eggs), and they all said they would. The only caveat with this is that there isn't really much you can do with this ability at Juanitos' Tacos and TK's Cheesesteaks, however, at Cracked, there are tons of possibilities. My favorite is taking the "Hungry Chief," an item made for meat-eater's (with eggs in it), and asking them to sub the chorizo with sriracha sour cream and guacamole (which are extras that usually make the burrito cost more).
After concluding my research, I decided to talk to Aditya and Yamini Yedetore. They both mentioned how they aren't able to go to food trucks that often due to the lack of vegetarian options. However, Yamini did have a Plan B wrap from Cracked, and when I asked her about it, she said "it's actually really good but it's expensive… It's not something you can buy everyday."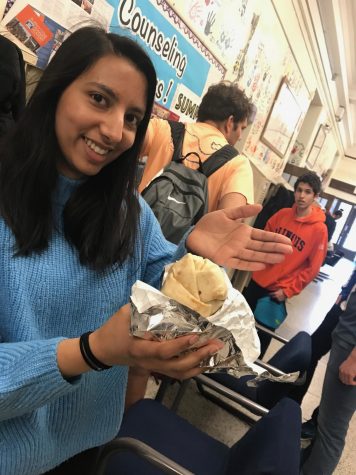 Yamini Yedetore about to enjoy her "Plan B" wrap from Cracked
Gloria Sunderland had very similar things to say. She mentioned that not only did it bother her that there weren't many vegetarian options, it also bothered her that the only purely vegetarian option, the Plan B wrap, was more expensive than most of the things on the Cracked menu with meat in it: "It doesn't make any sense. How are are veggies in a wrap more expensive than meats in a wrap?" She later mentioned that "If they had more options that were a little cheaper, I might actually buy food from there."
Two lessons learned: vegetarians don't have many good options at the food trucks (unless they're getting snacks), and Cracked is really expensive. I hope this guide helped my fellow vegetarians out!