NBA All-Star Game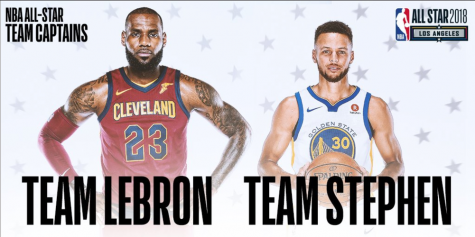 Courtesy of Espn.com
One of the most anticipated events in the sports world, the NBA offered fans an exhilarating weekend, known as NBA's All-Star weekend. Highlighted by the new All-Star game format, Los Angeles will be overflowing with supporters from across the country. February 16-18 consisted of several events, capped off with the head to head matchup between Lebron James of the Cleveland Cavaliers and Stephen Curry of the Golden State Warriors.
The weekend started off strong with the Celebrity All-Star Game, which started at 6 PM CT.
Event? What is it? What Time?
| | | |
| --- | --- | --- |
| Celebrity Game | Popular celebrities from all over the world suited up on opposing teams. | 6 PM CT Feb 16 |
| Rising Stars Game | The NBA's best rookie and sophomore players competed against each other. | 8 PM CT Feb 16 |
| All-Star Saturday Night | NBA players competed in the skills challenge, the slam dunk competition, and the famous three-point contest with all of Staples Center Arena watching. | 7 PM Feb 17 |
| 67th Annual NBA All-Star Game | Team Lebron and Team Steph clashed in a battle for the All-Star game crown. | 7 PM Feb 18 |
Contestants
Team Lebron
Player Team Appearances
| | | |
| --- | --- | --- |
| Lebron James | Cleveland Cavaliers | 14th |
| Kevin Durant | Golden State Warriors | 9th |
| Anthony Davis | New Orleans Pelicans | 5th |
| Kyrie Irving | Boston Celtics | 5th |
| Demarcus Cousins | New Orleans Pelicans | Injury |
| Bradley Beal | Washington Wizards | 1st |
| Goran Dragic | Miami Heat | 1st |
| Andre Drummond | Detroit Pistons | 2nd |
| Victor Oladipo | Indiana Pacers | 1st |
| Paul George | Oklahoma City Thunder | 5th |
| Russell Westbrook | Oklahoma City Thunder | 6th |
| Kemba Walker | Charlotte Hornets | 2nd |
| LaMarcus Aldridge | San Antonio Spurs | 6th |
Contestants
Team Steph
Player Team Appearances
| | | |
| --- | --- | --- |
| Stephen Curry | Golden State Warriors | 5th |
| James Harden | Houston Rockets | 6th |
| DeMar DeRozan | Toronto Raptors | 4th |
| Giannis Antetokounmpo | Milwaukee Bucks | 2nd |
| Joel Embiid | Philadelphia 76ers | 1st |
| Jimmy Butler | Minnesota Timberwolves | 4th |
| Draymond Green | Golden State Warriors | 3rd |
| Al Horford | Boston Celtics | 5th |
| Damian Lillard | Portland Trail Blazers | 3rd |
| Kyle Lowry | Toronto Raptors | 4th |
| Klay Thompson | Golden State Warriors | 4th |
| Karl Anthony-Towns | Minnesota Timberwolves | 1st |
Courtesy of beINsports.com
Highlights:
https://www.youtube.com/watch?v=VY91zRGzdv8