Scientific Research Methodology class throws "faculty mixer" during 8th hour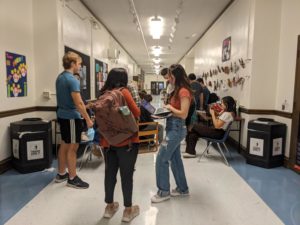 Thursday, February 9, the Scientific Research Methodology class led by teacher Cynthia Smyser held a gathering in the 3rd-floor hallway during 8th period. Described as a "faculty mixer," the event drew lots of attention from nearby classes.
According to Ms. Smyser, a faculty mixer involves "Professors getting together, talking about their research backgrounds, and bouncing ideas off of each other." She expressed her interest in allowing students to pursue science-based research projects, advocating for the class to be made to allow for each student interested in the study to receive the needed time and assistance for it.
"By talking about what we were going to study, it helps us focus on what exactly it is what we want to figure out," Smyser stated. According to senior Aditi Adve, this plan was successful, as she described how the get-together was held for students to take a break from their hard work on their individual projects and talk to each other about their research.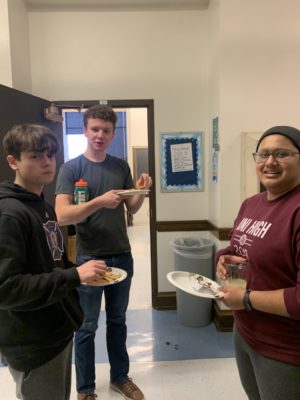 Although the mixer was a change in their normal routine, the students enjoyed the difference, with senior Dan Yang saying he enjoyed his Sour Patch kids. Ms. Smyser also noted how when first trying out a faculty mixer with her subbie class a few years ago, one of the main reasons they wished to continue the event was because "they wanted to bring food." With lemonade as the main beverage and pretzel sticks, pita chips, Milano cookies, and more being served, the snacks were definitely up to the students' standards, according to several participants.
Due to the large amount of attention the class drew during the mixer, multiple students who are not participating in the Scientific Research Methodology class decided to join in on the fun. Rather than solely focusing on the students' projects, a crowd developed in the hallway where participants also discussed other classes, different activities, ate delicious food, and overall had a nice time to bond.
Cornell Health states that, "taking purposeful breaks (anywhere from 5–60 minutes) from studying to refresh your brain and body increases your energy, productivity, and ability to focus." This break from work was not only enjoyable, but benefited the students both mentally and physically, something anyone can value and appreciate.