Newcomers to the Uni Community Look Forward to Winter Break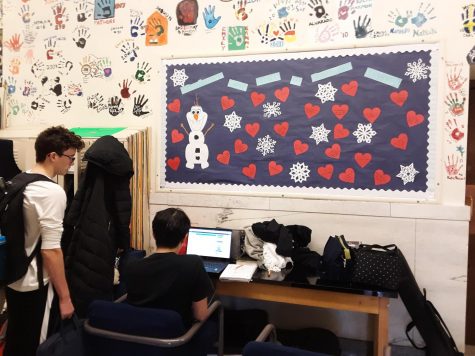 As the semester nears its end, many students and faculty are looking forward to winter break — and some are looking back on their first term at Uni. For all subbies and transfers and several new teachers, this fall has been a first look at our school. For many, it's been a transitional period in their life. Some expectations have been met, and some surprises were in store.
I talked with a subbie, Sarah Needham, and a faculty member, Uni's own German teacher Jenny Robins, about the last semester and what lies ahead.
Robins experienced a pretty big transition, moving not only to Uni but to the US. (She had lived here previously but had moved away ten years ago.) She highlights conversational English, 24-hour stores, and general "reverse culture shock" as aspects of the US she's had to adapt to during her first semester at Uni.
Teaching high school is also a change for Robins, as she'd previously taught grad students at a German university. She says, "The beginning of the semester was pretty stressful trying to juggle four new curricula and gauge student's language-levels, but I now finally[feel] like I know where students are at." Over the break, she plans on spending time with family and working on a dissertation — she's a linguist researching German. For academics, the work truly never ends.
Needham is likewise looking forward to the break, which will be pretty quiet. She's not taking a vacation, but she's going to have some family gatherings at home. For her, Uni's culture has been drastically different from middle school's. Her middle school was small, conservative, and Christian, with only ten students per grade. Uni, while smaller than most city public schools, seemed comparatively big at the time. Adapting to the school's environment was tough at first.
Needham likes the personal freedom Uni affords its students, especially physical freedom to, say, buy food from a food truck during lunch. She goes to Jurassic, and she says the fries are the best part. Over her first semester, she joined Orchestra as a clarinet player and began an Exploravision project about traffic congestion. (For any bemused alumni reading this, Exploravision is now a mandatory part of Subbie Science and has been for a few years. I managed to miss it.)
Both of these people have reshuffled their lives, to some extent, while they attended Uni. They began the process of adapting to things that I as a senior now regard as bland and normal. And they, like most people at Uni, are looking forward to winter break.