Uni's Madrigals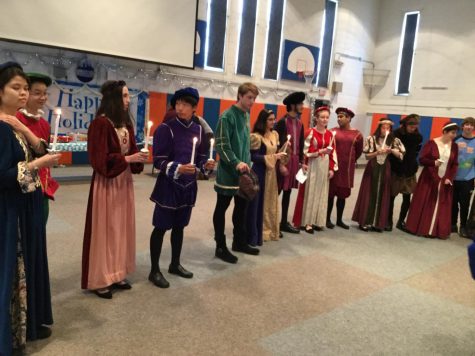 If you've attended a winter assembly in Uni Gym, you may have seen some of your peers singing in funny costumes. This performance group, led by Uni's music teacher, Mr. Richard Murphy, is known as Uni's madrigals. 
What is madrigals (in terms of Uni)? 
According to Murphy, madrigals is an audition-based singing group that started in 1947 at Uni. They sing acapella (without instruments) in 3-6 parts & do several events in and out of Uni. Most of the songs performed are about spring & "romantic" topics (pieces intended for madrigal groups), however, the group focuses on seasonal pieces during the holidays. Students in madrigals describe it as a close-knit group where they harmonize, have fun, and perform for others. 
What does madrigals do?
Murphy said rehearsal is held once a week (immediately after school on Tuesdays) in the South Attic until 4. Members gather around the piano to learn new pieces, with a piano accompaniment for them to eventually wean off of, in order to prepare for performances. Events done in the past (outside of Uni) include various fundraisers as featured entertainment, singing at parties in the mayor's house, singing at Smith Hall, singing in the Krannert lobby, and singing even as far as Springfield. Many additional invitations to perform get sent to the group last-minute every year. 
Current group member Ariana Mizan adds that the group also gets to do interdisciplinary events, including providing vocals for some of Uni's theater productions this year. Mizan also adds that the events vary per year and that the group often grows together in terms of the quality of their performances as the year progresses and the group members become more familiar with the singing style of their peers. Mizan says that she likes working hard with the group to improve and she finds joy in giving the gift of music. 
How do you join madrigals?
Auditions are held in early September, which past members must attend as well. Murphy chooses a piece one week prior and leaves copies of it on the piano for all interested. Students sing as a group & individually during the audition after school and are assessed on their voice, ability to match pitches, and blending. 16 students are selected (ideally 4 of each voice). These voices are soprano & alto (typically for girls) and tenor & bass (typically for boys). The order in which the voices are listed is from highest to lowest range. 
New group member Eliza Terziev describes this process as fairly easy and simple, as waiting for the results is harder. Murphy states while prior singing experience is not required, students must be willing to memorize new pieces fairly quickly (especially in their first year) and work well with their group members. Terziev adds that she practices the pieces on her own sometimes, however, that is not required of the group as Murphy holds additional practices on the weekend if needed. She also mentions that it is crucial that the group works together and that they follow each other's cues.
What's with the funny costumes? 
Murphy explains the medieval-style costumes have been worn since madrigals started at Uni, and while that they are "fun," the costumes also carry some tradition. The costumes are meant to fit the Elizabethan era clothing style (from which the majority of songs the group is performing are from). No, unfortunately, the guys are not wearing tights just for fun. Mizan adds that she enjoys the costumes and that they make her feel regal and like she's truly in the Elizabethan era. Other group members agree with her statement. 
Now that you know more about the people in the funny costumes, perhaps you will consider auditioning so that next year it's you singing during the winter assembly.