Roving Reporter: Winter Holidays at Uni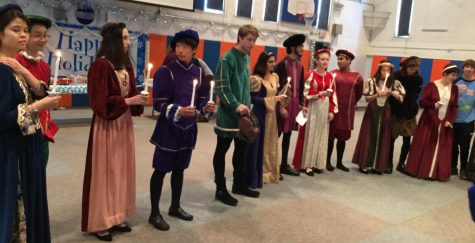 Madrigals perform at last year's end-of-semester holiday party.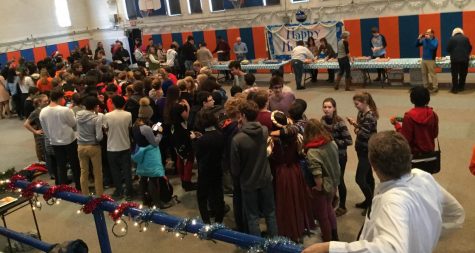 Students line up to eat.
As the days get shorter and the temperature drops, the holiday season is on the horizon.
Uni students come from a variety of different cultures and backgrounds, so they celebrate many holidays. Some, like subfreshman Mariam Vaid, do not celebrate any winter holidays at all. Uni's Muslim and Hindu students comprise a sizable non-celebrating portion of the student body. However, Christmas was still celebrated by many of the students interviewed, along with Hanukkah, New Year's, and Lunar New Year. Throughout the different holidays and traditions, one thing seems to be in common: spending time with your family and sharing a meal together.
Tracy Li
Subfreshman
"I celebrate Christmas, the American New Year, and Lunar New Year. For Christmas, we give gifts, we go to parties on American New Year, and on Lunar New Year we eat dumplings and other Chinese food."
Ethan Soloveychik
Senior
"I'm Jewish, so I celebrate Hanukkah and New Year's. … For Hanukkah, my family gets together every single night and we light candles. There's eight nights, and we give presents on a few of those nights. For New Year's as a family, we watch the countdown, have people over, and we reminisce on the previous year. It's a family time to really appreciate what we did during the year."
Joshua Mok-Chih
Junior
"I celebrate Christmas and Lunar New Year. For Christmas, I get with family and we have presents and a tree."
Macheila Anderson
Senior
"I celebrate Christmas. On the 24th, I go to my great-grandmother's house and we have dinner with my mom's side of the family, and then on Christmas, we stay home and have a late lunch or early dinner."
Serenity Lilly
Freshman
"We celebrate Christmas, but not religiously. On December 24th, we go visit my mom's parents and we eat dinner and open presents, then on December 25th we go to my dad's family and we eat with them."
Eve Koslofsky
Freshman
"I celebrate Hanukkah. We light a menorah and a hanukkiah, and sometimes eat donuts and latkes."
Cocoa Correia
Senior
"I celebrate Christmas and New Year's. We don't really have traditions since my mom is almost never with me when Christmas and New Year's come around, but we stay awake as long as we possibly can since she clocks out at nine."
Nico Hernandez
Sophomore
"We celebrate Christmas but we don't really do any of the other religious parts of it. We have a Christmas tree, and that's about it."
Elisha Ham
Junior
"[I celebrate] Christmas and Lunar New Year. For Christmas, I do basically the same [traditions] that everyone has, like set up the Christmas tree, hang up stockings, and give presents. For Lunar New Year, I'm Korean, so we usually do the Korean stuff like make rice cakes, call our families, and things like that."
Ray Jones
Sophomore
"I celebrate Christmas, usually with my grandparents, and New Year's, when I usually stay home. On Christmas Eve, we usually go to my grandparents' house and do presents and dinner."
Nika Cooper
Junior
"I celebrate Hanukkah, Christmas, and New Year's. For Christmas, usually we go to Colorado, which is where my grandparents live, and celebrate with them. For Hanukkah, we light a menorah. We don't give gifts every single day because we celebrate Hanukkah and Christmas, so that would be a lot of gifts for my parents to give me and my sister. We give gifts every other day for Hanukkah."
John Brownridge
Subfreshman
"I celebrate Christmas. Usually we just meet at someone's house, maybe our grandma's, or maybe our cousin's, then we have a big dinner and open presents."