Mr. Kyoto Review
What is poke (pronounced "pokay")? That is a question many people ask when they first hear about it. Poke is traditionally a raw fish "salad" with rice that is served as an appetizer  in Hawaiian cuisine. However nowadays, there are many ways to customize it, whether it be by adding other types of meat, vegetables, sauces, and more. Poke bowls have gained a significant amount of popularity in recent years, and many restaurants, including ones on Green Street, have begun to follow the trend.
Ahmad:
My first time trying poke was actually at Mr. Kyoto, a Chipotle-style restaurant where at each step you choose what goes into your bowl. I got a junior tuna bowl with all the veggies, except tomatoes and broccoli, and spicy mayo as my sauce. It. Was. Delicious. (And also under $10). It was almost like sushi in a bowl. When I took my first bite, I felt as if the fish was too cold and the rice was too warm, but a few bites in, everything balanced out. Some vegetables, like the corn, really made all the difference as it provided little bursts of sweetness. Even the spicy mayo was great. It might be too spicy for some people, but for me it was perfect. Seeing how good a traditional poke bowl was, I also decided to give their vegetarian option a try the next day.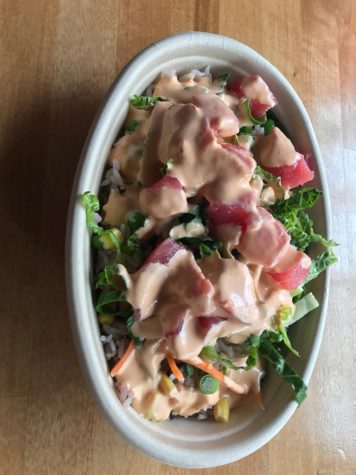 Despite the amazing tuna version, I did not have high hopes for the vegetarian tofu poke bowl. Fortunately, it was better than I expected, and on top of that, it was under $5. I got a junior tofu bowl with all the veggies, except tomatoes and broccoli, and the mango habanero sauce. Although the flavors worked well together, I felt the dish was fairly textureless. The only things contributing to the texture was the veggies. I would also say that even though I enjoyed the sauce, I would not recommend it to anyone who can't handle spice.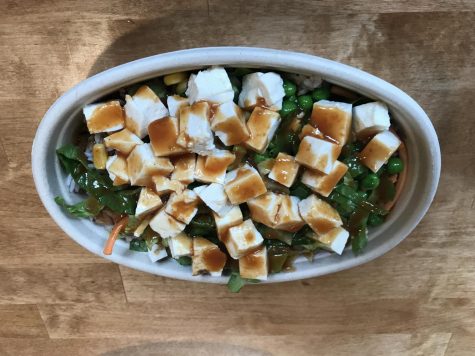 While looking at the menu, it didn't feel right to not try anything else, and because of that, I opted for the takoyaki (a fried ball of soft batter and onions with a perfectly cooked piece of octopus inside of it) which was $7. While it did not look like traditional takoyaki, which is usually topped with a bunch of sauces and toppings, it definitely tasted just as good as the original. While I did not feel it needed the sweet and slightly spicy sauce that came with it, it added an extra dimension of flavor.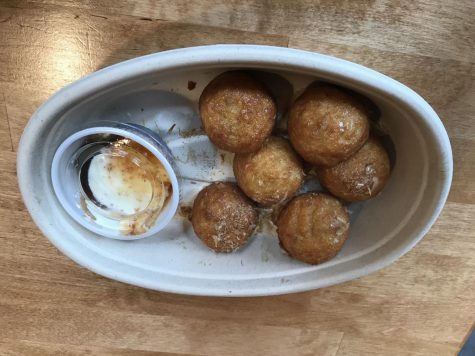 Out of the foods I tried, both the tuna and tofu poke bowls had good monetary value. The price for the tuna bowl was expected, considering you are getting sushi-grade fish. However, the tofu poke bowl was a steal in comparison. Finding good vegetarian food is hard enough, but for it to also be under $5 is insane. Finally, the takoyaki was a bit overpriced. I probably wouldn't buy it again.
As a Muslim in America, I usually am not able to eat any meat (unless it is halal) and have to follow a strict pescatarian diet. Because of this, finding good fast food places is a struggle for me. However, Mr. Kyoto had many options for people like me and even strict vegetarians. I would definitely recommend it to anyone going out to eat who wants to opt for something unique and healthy they might not have tried before.
Angelynn:
My first impression of the restaurant was that the decor was beautiful.  Dimly lit with nice music in the background, the light from the window created shadows on the beautiful oriental design. Everything was clean, and there was a simple menu at the very top of the order area. Mr. Kyoto is a create your own bowl style restaurant.  All the proteins, vegetables, and sauces are displayed, allowing for flexibility in what you want or don't want.
I ordered the chicken bowl with all the vegetables available and ponzu sauce. The total came up to $9.25, which I found to be a very reasonable price considering the enormous size. They used purple rice which serves as a healthier alternative to white rice, and tastes much better. They give good amounts of chicken with lots of fresh vegetables, such as the lettuce and tomatoes, which added nice variation texture-wise. The corn added an unexpectedly nice touch of sweetness.
The rice could've been cooler, as it was on the warmer side when it was served. Another downside was the lack of topping options I typically see in other poke establishments. I was hoping to see seaweed, crawfish, rice seasoning, and wasabi. Nonetheless, Mr. Kyoto would be a perfect option for someone craving Asian fusion at a lower cost.
Overall, both of us agreed it was definitely worth the price for the amount of food you can get. The ingredients were all fresh and delicious, and customizable, allowing for us to each accommodate our needs. I think whether one chooses a vegetarian or meat option, it will definitely be a great place to grab a casual lunch with friends.