Alumni Profile: Kari Schwink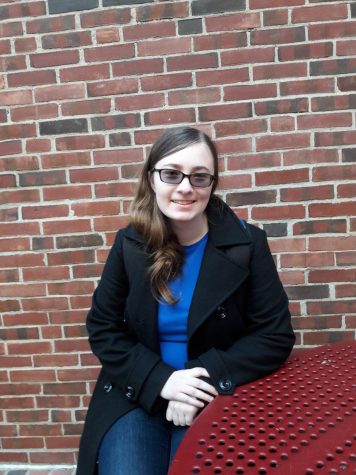 Kari Schwink, Class of 2016, led Uni's Anime Club and participated in Linguistics Club in her senior year. During her time at Uni, she went through depression and anxiety, but also discovered her love of languages and grammar. She is currently a student at the University of Illinois, studying linguistics and Slavic studies.
Schwink credits Madame Lopez for helping her discover her passion for Russian. Schwink had gone on a trip to Concordia Language Village in Minnesota, an immersive language program for minors, where she was taught a year of high school Russian in a month. Schwink then organized an independent study with Madame Lopez, who had studied Russian in college, to continue her education. "She was brilliant," Schwink says about the experience. "I loved working with her."
Schwink's time at Uni was "one of the most challenging but most rewarding times of my life". Schwink struggled during her subbie, freshman, and sophomore year. Schwink credits her "support system" of friends, teachers, Dr. Radnitzer, and the "good people around me" for helping her. She considers her mental health her greatest achievement. "I'm proud of getting from where I started back at Uni (…) [and] reaching beyond that," she says. "Going to university, studying Russian, finding my passion and kind of building up from there."
Along with linguistics and Slavic studies, Schwink teaches international students to improve their English. She also studies Korean, Chinese, translational studies, and Russian literature.
Two years after graduating Uni, Schwink has had time to reflect upon her experience. "I wish Uni were a more supportive atmosphere for people with mental health problems," says Schwink. Though she received a lot of help, Schwink says she saw many others who didn't, and pointed out a stigma around going to the counselor's office as an example. "They're working on that [problem], I know they're working on that," she adds.
However, there are many elements of Uni Schwink loves and misses, including the library, the atmosphere and the people. "I do not miss the constant stress and pressure of Uni," she says with a laugh. She also adds that Uni started to feel small by senior year, and that there was so much more of the U of I campus to explore.
Finally, Schwink offered advice to current Uni students. "It's important to maintain a certain perspective of the wider picture. It's really easy when you're at Uni to get bogged down in the details, this is the project I need to get done, I need to finish this, I need to do exactly this well on the project or I'm not going to get into the right school. But in the end, it's more about what you learned, not just in school, but like the people you meet, the relationships you develop, the values you develop as well as the passions that you find and the academics that you explore. I hope that people at Uni can remember that if you're having a bad time of it, life gets better and that there is a future no matter where you end up."