Uni gets new charging stations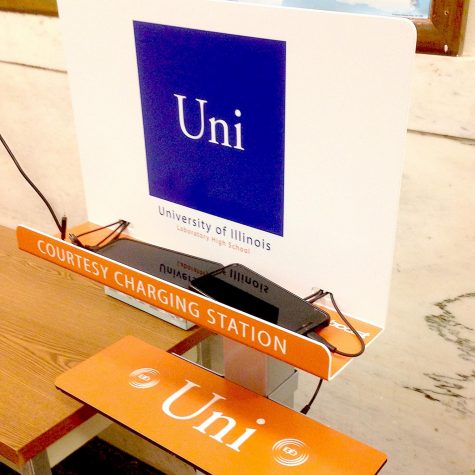 On January 11th there was an unexpected addition to the first floor. Students flocked to see the new phone-charging station.
According to Associate Director Dr. Ida Nuckolls, it is a charging station from kwikboost, only for phones.
"It's a sign of the times," says Nuckolls. "Everyone has some sort of electrical items needing charging."
"I see students crawling up under water fountains to plug in their devices and that makes me nervous," Nuckolls says.
Charging stations at the Illini Union gave Nuckolls the idea to have some at Uni. Callie Montgomery, who is an IT tech associate according to Nuckolls, helped figure out where to place the phone-charging station in Uni.
"We went to every hallway, every room, every corner," says Nuckolls.
The PFO offered to purchase more for Uni, but Nuckolls was unsure how many they'd be able to get. The current charging station cost $899, and an additional $299 for the ledge. It was purchased by Uni.
The University of Illinois was not involved in getting the charging station.
"The U of I hasn't paid anything for it," says Nuckolls. "If anything, they're providing the electricity."
The same vendor who put up the charging stations in the union put up the station at Uni, which is why it has the UIUC's name on it.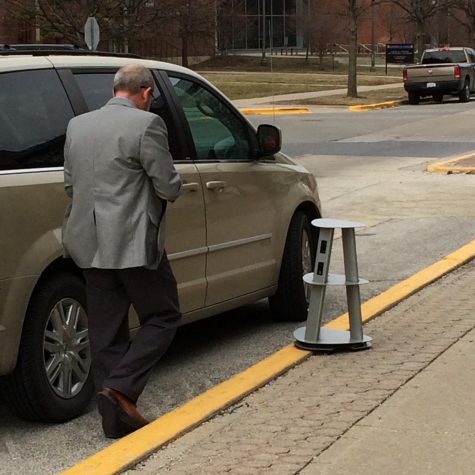 Nuckolls says that a student who helped her plug it in and test it told her that Uni really needed something for laptops. So, on Wednesday, January 31, Nuckolls arranged to get another charging station not exclusive to phones. It was an Isle Power Tower from KI, and will also cost $899.
"We want to have them in convenient places," says Nuckolls. She says she's open to ideas on where to put the stations. The Isle Power Tower will be on the second floor.
When told that a charging station would be coming to the second floor, freshman Rani Ramrattan said, "I think it's good, because we only have one outlet that we can use," as she indicated at an outlet in the middle of the hall. Freshman Elliot Gangler agrees. "I think it's good to have a couple outlets," he says.
Some students think the phone-charging station is a good idea.
"I like it," says senior Anna Ding about the phone-charging station. "I think a lot of people don't bring their charger to school, so I think it's useful."
However, others haven't found it helpful yet.
"I've never used it," senior Jake Robbennolt says. "I usually have my phone charged."
Junior Emma Hummel hasn't either. "It seems really expensive," she adds.
Whether it's a worthwhile investment remains to be seen, but a couple phones plugged into the charging station is already a common sight.