Class of '18 considers athletic opportunities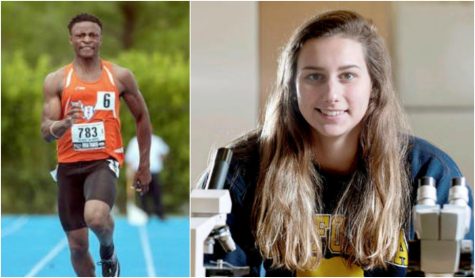 This year an exceptionally athletic class is going to graduate from Uni. Eight students have received athletic offers from colleges all across the U.S. in sports ranging from swimming to track to  basketball to soccer.
        Colleges give athletic offers to the top student-athletes in the country within their respective sports. These schools are classified from Division 1 to Division 3, with different types of offers. D1 schools have a lot more to provide. These school are well known, huge, can lead to immense popularity, grant you instant admission (if you meet the admission requirements), and most importantly, can include money in their offers.
As you move on to smaller D2 and D3 schools, the offers become much more limited, most notably excluding money from their offers which sometimes deters athletes from joining their programs. Fortunately, for these smaller schools, one attractive feature is their larger focus on education which mostly entices athletes who know they aren't going to go professional
Senior Ema Rajic, committed to a D1 college for swimming.
From the national class of 2018, she is ranked as one of the top sixty swimmers. She is also the third best female swimmer within the state. Her many accolades include a plethora of state championships and records. She is so good that she even got a partial scholarship from her "dream school": the University of California-Berkeley, to which she recently committed.
 Though D1 schools have a reputation for being less flexible than D2 and D3 schools, Rajic revealed that Berkeley was still very flexible when it came to swimming. She said that despite having five hours of practice every day, "school comes first. If you have a class in the morning and it conflicts with morning practice, then you can do morning practice at a later time or you can do it at an earlier time. Same goes for afternoon practice."
Despite this flexibility, balancing school and athletics still seems like a daunting task. However, Rajic said that the fact that she's "doing it right now with high school will make it easier to manage in college" since schedules are "more flexible" and "you don't have eight hours of class every day."
Another exceptional athlete of the senior class is Camden Coleman. He is not only the starting varsity  forward on our basketball team, but he is also a track star. Like Rajic, he received interest from bigger and smaller schools, but unlike her, he hasn't committed to any of them yet.
Coleman was en route to get offers from D1 universities until he got injured his sophomore year. According to him, "it was a blessing and a curse." Before the injury, his main goal was becoming a D1 athlete. While he could have still achieved his goal after recovering from his injury, his newfound free time changed a lot of his views.
Coleman said, "before the injury all I did in my free time was train. I mean I was putting in 24 to 28 hours a week training. But after I got a break [during injury], it was like 'man I could study kinesiology or psychology' which I really want to do. I love to run and play sports but I also really want to become educated in these fields."
In the end, Coleman decided he would view athletics only as a part-time job (because he got money towards college for his hard work), and not as a career path. He decided that they weren't as important as education, and if they were to take up a lot of his time and interrupt his education, they wouldn't be worth it.
Tough decisions lie ahead for both those who have chosen to compete at the next level and those who decided not to. Regardless, the future looks bright for them all.