Teacher Profile: New kids on the block
Melissa Schoeplein
"I may be responsible for the creation of Spirit Week," said subbie history teacher Melissa Schoeplein. Schoeplein once walked the walls of Uni, long before she joined the Uni history department replacing Janet Morford. The alumna of the Class of 1994 was student body president during her senior year got the idea from her cousin and decided to implement it in Uni.
"I'm kind of shocked that it has continued on. I don't know if I would have thought that it was necessarily a success." Schoeplein, who was in Bill Sutton's first class, now sits in the desk that would have been right across from his.
After graduating from Uni, she taught at a D.C. public elite school called Thomas Jefferson High School for Sciences and Technology. She taught AP government, world history and some electives such as science policy and world religions. Schoeplein also sponsored the student government. As an AP government teacher, Schoeplein would use her resources as a teacher in D.C. and take her students to Capitol Hill. She also taught during the 2008 election and Hurricane Katrina and used those events to teach her students about government. During her Spring break, Schoeplein went on her own to New Orleans to build houses for Habitat for Humanity. She took many pictures and ended up inspiring other students to convince her to take them to New Orleans to work for Habitat for Humanity.
Schoeplein plans to use similar methods of using current events to teach in her classroom. Her class has already studied and discussed the controversy surrounding the Confederate statues. Discussion is a very large part of Schoeplein's class. "I use lots of discussion in class and I want students in the discussion to be applying something that they've read the night before. I want them to be able to articulate certain arguments or incorporate knowledge that we learned in class to the classroom." Her teaching style is also very involved, "I'm very into project based learning and I will lecture but I don't lecture all the time. I want to teach my students to be historians and I want to help them understand the skills that they need to have to be historians."
After all, teaching and interacting with students is what brought Schoeplein to Uni. Schoeplein previously worked for the College of Liberal Arts and Sciences at the University of Illinois, focusing more on administrative aspects. "There were parts of my job that I really liked but I really missed working directly with students and teaching." The atmosphere of Uni further compelled her to take the job. "I like that the school is fairly close-knit and I also like that there's a lot of intellectual curiosity here."
Schoeplein is excited to be involved in the close school community. As leader of the WILL Oral History Project, Schoeplein has already been involved with WILL Interns and she is also the co-sponsor of the subbie class.
---
Cynthia Smyser
At the start of the 2017-2018 school year, Uni brought in three new teachers. One of the new teachers is Cynthia Smyser. Smyser has taken over teaching Engineering Explorations and subfreshman science, classes that were previously taught by Sharlene Denos who left for a sabbatical. You may have seen her in the halls or perhaps an email she has sent, but what you probably don't know that she herself is a Uni High Grad.
Smyser graduated Uni in 1992 at 17 years of age and believes her time at Uni made her the person she is today. One difference that she notices is how much more formal Uni is now compared to during her attendance. The "addition of more administrators" was a good thing, allowing a better connection with students and their lives.
Before coming back to Uni Smyser received her B.S. from the University of Illinois, another B.S. from Illinois State University and her M.S. from Illinois State University.  Smyser then taught at different high schools. One thing that  Smyser loves about Uni is the ability to "give them [students] more control and creativity." Uni is a very tight knit community a clear example is the fact that Mr. Stone and Mr. Bergandine taught  Smyser.
The fact she was once a student gave Smyser a leg up on all of Uni's unique features that would shock other new teachers, making the transition easier on both the students and  Smyser herself.  Smyser does see that "Being a student is definitely not being a teacher"  and the transitions do take some time to get used to. As a teacher, Smyser hopes to use her class to allow the students to discover themselves and find their passion just like she found her passion while still a student at Uni. While still needing to teach the "tools necessary to be successful."
Smyser wishes to "Give more creativity to the students and  let them come up with own projects which I think is a much better learning  experience, that not everyone would have been able to handle  in all of my other classes so the fact that I can do that here is going to allow my students to find themselves and find what interests them just like I did when I was at Uni."
---
Andrew Wilson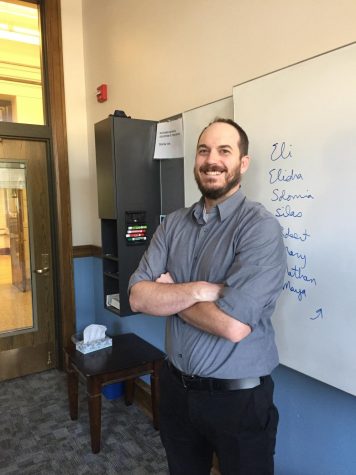 Whether leading a discussion in his Anthropology class with seniors and juniors or playing Civilization V with freshmen in his World History class, Andrew Wilson, one of Uni's two new history teachers, is resolved to create a comfortable, yet engaging atmosphere in his classrooms.
Wilson is originally from Nebraska, where his parents taught and where he attended Chadron State College for his B.S. in history and later the University of Nebraska-Lincoln for his M.A. and Ph.D. in history. Despite initially wanting to diverge from the path of his parents, giving lectures as a teaching assistant made him fall in love with teaching. There, he also encountered a professor from whom he would take some professional cues, such as egalitarianism and being informal with students.
"A lot of people develop this standoffish relationship with students, especially at colleges . . . he [the professor] took time to talk to the students, to get to know them, which is pretty rare."
One can find this in Wilson's Anthropology class for upperclassmen, where classes are typically structured as discussions rather than lectures. During these discussions, Wilson will often allow students to go off on tangents or even do so himself, contributing to the intentionally casual atmosphere of his classroom. Wilson also foregoes a rigid schedule for his class, instead preferring a more flexible plan to allow for unseen events like discussions spilling over the allotted time.
This egalitarianism and informality, Wilson says, is not only meant to create a sense of ease among students, but also to foster independence.
"You have to be more responsible as a student, which I think is good, you have to learn how to be self-motivated."
A more unorthodox method of Wilson's can be found in his freshman World History class where, at the end of every week, students play the video game Civilization V. Though, the former half of the week is relatively typical – consisting of a lecture-based introduction to a topic followed by primary source activities and group discussions – Wilson chooses to conclude every week with a strategy-based computer game. In Civilization V, players are tasked with building, maintaining, and leading a prehistoric civilization through a variety of geopolitical challenges. Wilson breaks his class up into groups of occupations who then vote on what steps to take in their civilization based on said occupation. At the end of the year, the students will write about their experiences as a final project. Wilson cites the fact that "history can be so passive" as a reason for his use of the game. Wilson hopes that it will create a more engaging atmosphere and even encourages students to dress up as their roles.
It is perhaps not surprising then that Wilson is most satisfied with his work as a teacher when he sees "active and involved" students. And at Uni, he says, he's had no shortage of them. Upon arriving at Uni, he was pleasantly surprised to find that students "weren't super rigid, grade-oriented students" and that they "really seemed to have an innate curiosity, like a desire to learn."
"You guys are like an honors seminar. You're like the brightest kids, you just get to sit in a room and nerd out and talk about things that you're interested in," Wilson says about the Uni student body.
Wilson plans to keep teaching Anthropology as well as Psychology, his second semester class for upperclassmen. He would also like to offer a political science class, a topic he minored in, as well as a digital humanities class which would focus on technologically applied aspects of history, and a "History Harvest", in which local residents would bring in artifacts to be catalogued by Uni students.