Short Stories Part 2: Uni Fundraisers… Without the Funds
Uni's clubs adapt to holding their annual fundraising events without the ability to collect money
Recently, the UIUC moved to prevent Uni clubs from directly raising money for any cause – including handling any profits from food sales or Uni-affiliated events. However, Uni clubs have continued to support outside organizations: through collections of food instead of money, as demonstrated by our Thanksgiving Food Sale, or, in the case of Spring Club, through helping to organize a local fundraiser that's non-Uni-affiliated.
An Evening With Spring Initiative is a fundraising event to benefit schoolchildren in Clarksdale, Mississippi through the Spring Initiative after school program. It doesn't violate UIUC's rules because its Uni-affiliated club, Spring Club, isn't actually running the show. Instead, workers with a local branch of Spring Initiative are taking control of the actual fundraising, and Uni students are helping with other aspects of the event. The event, which takes place on December 14, will be funded by entrance fees and will include food, a concert, and a presentation on Spring. It won't be held at Uni to avoid falling under UIUC's definition of a "Uni-affiliated event."
You may have noticed that another Uni tradition, the Thanksgiving Food Sale, also was impacted by these rules. Food Pantry Club organizes the event, and usually pockets around $1000 in donations, according to Kristine Wang, a leader of the club. This year, however, they weren't allowed to collect money, so they collected canned food instead.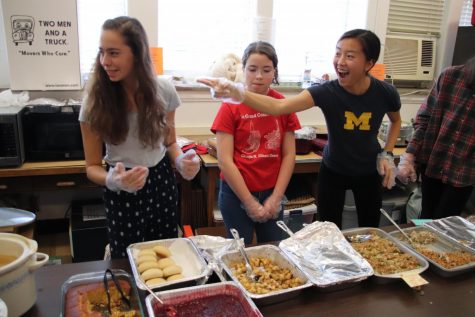 Wang said in an interview that turnout decreased due to the new rule. While many students would have spare cash to spend on a food sale they hadn't heard about, not many bring cans of food to school regularly. People wanted to participate; they just didn't have cans. And Wesley Food Pantry, whom they usually give proceeds to, doesn't take cans of food — just money. Instead, the club joined a fundraiser run by the Eastern Illinois Foodbank, which is collecting from many high schools in the area. They collected three large cardboard boxes full of cans , selling almost all of their Thanksgiving food — still a success, but a more moderate one than last year's sale.
Both of these clubs have adjusted their events to conform to the UIUC's new fundraising rules. These policies are not actually curtailing club-sponsored fundraising at Uni; they're just making it harder to do. No matter what the University does, it seems, you can pry our food sales out of our cold, dead hands.