Tim Cho: Teen Jeopardy Semi-finalist… and more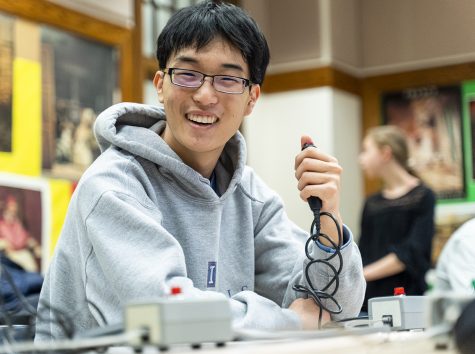 After an exhilarating comeback win in the first round, Senior Tim Cho was eliminated in the second semi-final round of Teen Jeopardy in a close battle.
Teen Jeopardy is a variant of the popular TV trivia show with teenage contestants. Contestants answer trivia questions and accumulate enough money (more like points in Teen Jeopardy) to beat their competitors to advance and eventually win the $100,000 grand prize.
Cho admits that while being on TV has been a surreal experience, he was more excited by the National Academic Quiz Tournament State Championship last year.
"Jeopardy, you know that you're going to be on TV so there's a lot of nerves, but Quiz Bowl, like the state championships, playing with your teammates, I feel more amped for that," says Cho.
While Cho is grateful for the once in a lifetime experience, he doesn't regard it as the peak of his success.
"This experience was obviously super cool, but I don't think I've changed who I am because of it. I hope others don't see this as defining me, because I don't," says Cho.
Cho was selected as a contestant in early August. After going through an application process including an online quiz, a selection process from the teens who excelled in the quiz, auditions, and more tests and interviews, as one of fifteen from the thousands who applied.
"The online quiz was fairly straightforward. But the selecting process was where I got kind of lucky," says Cho.
In early October, Cho took a week off school to go shoot the TV episodes in LA.
"It was super cool going to LA and missing school I guess," Cho laughs "but it was also super cool meeting the kids there. (…) It wasn't super competitive, and it was cool meeting people who had similar interests."
"[Being selected] has to do with my passion for learning things, which is mostly personified by Quiz Bowl," says Cho.