Getting (ae)real with Bella Solis
Senior Bella Solis has many unique qualities about her, standing out from the crowd with her pastel-colored hair and tall stature. Always smiling, she is known for running the school's Model UN club, as well as just being a friendly face around school.
Solis also spends 15-16 hours every week practicing a form of dance that most people have never heard of: Aerial arts.
For the past 4 years, Solis has been an aerial dancer at Defy Gravity. However, Solis was not always an aerial dancer and started off dancing ballet.
"I was a serious dancer from when I was 4 to 13," she said, "Eventually I was at this point where I either [had] to get really serious about ballet, or not. So, I decided to quit."
Solis describes her entry into the Aerial Arts world as one that she"…fell into." Before starting as an aerialist, Solis had done some aerial lessons at the old Top Star Trapeze studio. When Defy Gravity opened, she ended up on their mailing list. Solis decided to go to an open house and has never looked back.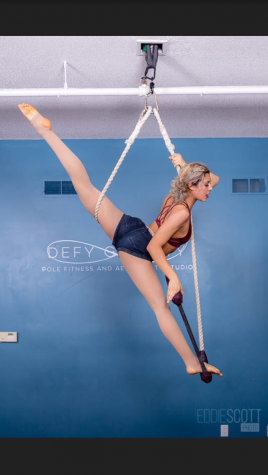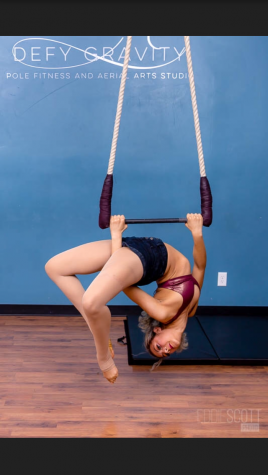 (Pictured at the right: Solis at Defy Gravity)
Although Solis recommends aerial arts to anyone, there have been some drawbacks for Solis starting aerial at such a young age.
"I had signed up for their classes before they said it was okay that I was under 18," Solis said. "Some professional schools have an 18+ limit to attend and live in the dorms and stuff, and you have to be 18 to audition for roles and teach."
Solis has an active Instagram page with 600+ followers where she posts videos of her choreographed routines and the progress she has made.
"It's important for professional purposes to have some kind of social media showcasing your routines," she said. Solis also thinks it is fun and provides her access to the broader circus community.
Check her Instagram out @isabemsolis.