Rahi Miraftab-Salo breaks scoring record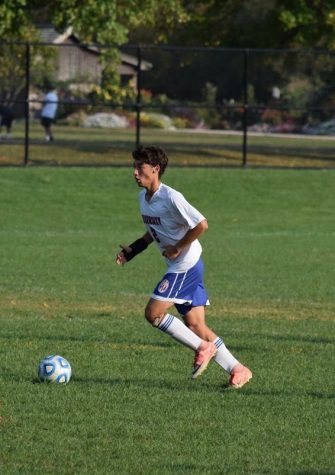 As the 2017 boys soccer season starts to come to a close, Senior Rahi Miraftab-Salo has one more victory– breaking the boys soccer career goal scoring record. The previous record was held by Patrick Wong (Class of 2013) at 99 goals.
Miraftab-Salo has as of now scored 100 points during his four years as a varsity player, and may score even more as the team enters its post-season.
Miraftab-Salo says, "Breaking the record was definitely a goal for me throughout the season. I knew that I could beat it but I got off to a slow start and later in the season I started to score a lot more. Over the past three games I knew that it could happen at any moment, I was pretty relaxed through those games because I didn't want to force anything. It feels awesome that I'm finally a part of history now after four years of playing."
Miraftab-Salo is now looking to break the assist record of 62 assists, held by Tarik Koric (Class of 2013). He is four assists away from breaking the record.
To see Miraftab-Salo and the rest of the boys varsity soccer team play, the next game is in Hoopeston, IL on Saturday at 1 pm.