Foosball at Uni
If you ever enter the student lounge after school or during Uni Period, it's not uncommon to see a group of junior and senior boys gathered around the foosball table, in a tight huddle. Between the screaming of the boys and the loud noises made by the table as it's hit so hard it moves across the floor, it's a scene that's nearly impossible to miss.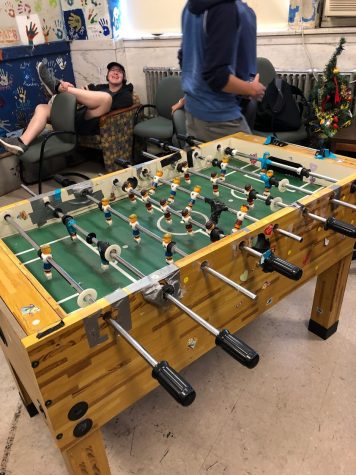 The table itself isn't that old. According to Dr. Radnitzer, the table was brought to Uni around 2015. The table is in poor condition, looking like it's at least 10 years older than it actually is. Among other things, parts are held together by duct tape and several screws are missing. Senior Eli Garrett said, "It was in pretty bad shape when we started playing, as juniors, but after last years senior prank, where they [student's of the class of 2019] took apart the table and hid the pieces around the school, it's been way worse looking".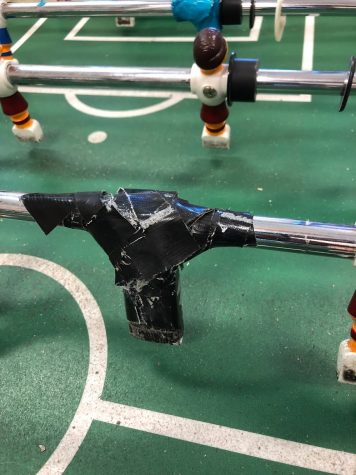 When asked if the nature of the table's damage makes the playing the game less enjoyable, senior Joshua Mok-Chih had this to say, "It actually doesn't. It gives it a sense of being unique to Uni. It's so broken that it's one of a kind. More practically, once you get to know the table well, there are a lot of tricks that you can only do because of how the table is, and that's really fun."
The appeal of the game goes beyond just tricks. Both Garret and Mok-Chih have said that they typically play the game at least once every free period, Uni period, and after school. Brandon van der Donk, another senior, said, "One of the reasons I play so much is because depending on what I'm looking for, I can get something different from the game. If I want to relax and destress, I can play a chill game, but if I'm feeling more competitive, I can play a really involved game"
The player above was broken in half and                                                                                                                        duct taped back together
For others, the pleasure comes from winning. Mok-Chih admitted that much of the appeal for him comes from racking up victories. 
Seniors often cited beating juniors as a major appeal for them. "They're all pretty bad and they get really into it and are super loud, so beating them is pretty fun," said senior Henry D'Angelo. 
When asked about how the seniors trash talking affected his enjoyment of the game, junior Blessing Omoniyi said, "If I'm bad at something but I'm having fun, I don't really care".
There is a notable lack a girls who play at the table. In a ranking of the frequent players in the school, made by a senior boy, only one of the 21 players were female. Senior Faizah Rauther said, "When it's a huge group of screaming guys gathered around the table, it's intimidating to go up and ask to play. If it's just me and a few friends in the lounge during a free period, I'll go up and play a friendly game,"