Students walk out in memory of Florida shooting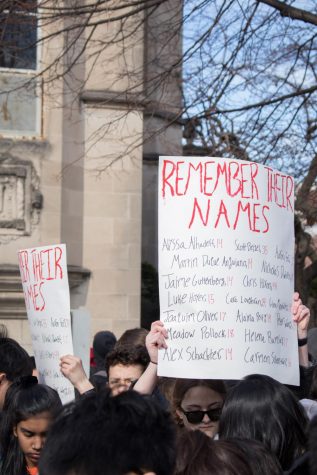 At 10 AM on Wednesday, nearly the entire student body walked out of school and onto Uni's courtyard to mourn the lives of the seventeen people killed in the Marjory Stoneman Douglas High School shooting, which occurred exactly one month ago.
Students stood in silence for seventeen minutes, one minute for each life lost. Preceding the silence, subfreshman Amaya McDuffie read the names of the seventeen people.
"When an event like this happens, it's easy to kind of forget about the victims, but reading the names — these are real people who aren't alive anymore, and whose families are going to have to deal with this for the rest of their lives," McDuffie said.
The walkout was a part of a broader national event to pay tribute to the victims and advocate for gun control reform. Organizers chose to lead a silent march to provide a space for students to mourn the lives lost and contemplate the significance of the shooting.
"We really wanted people to reflect on losing members of their community. We wanted people to realize the impact of losing 17 people. It's more than 17 numbers, it's 17 lives," said junior Tina Wayne, the event's organizer.
"One minute wasn't long enough for each life," said junior Betsy Ruckman.
Future protests for gun reform will be held on March 24 and April 20.