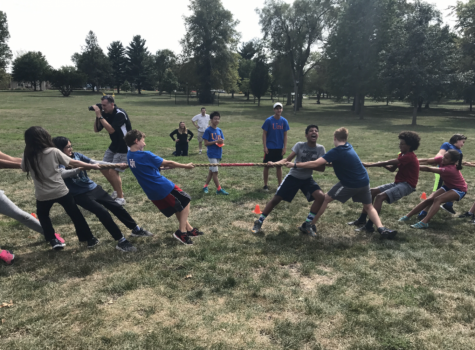 The annual Subbie Retreat took place on Friday, September 1st, at Hessel Park. Judging by responses from subbies and subbie buddies, the event went well. Senior Mallika Luthar, one of the subbie buddy leaders, had a positive outlook on the retreat despite the cold weather, saying that "the subbies were really cooperative and engaged in the activities."
The subbies seemed to have enjoyed the event as well. Subfreshman Amaya McDuffie thought that she made a lot of new friends at the retreat, and that they did a lot of fun games. According to Ronan Looney, one of his favorite activities was the Subbie Olympics, where they split into small teams and earned points by competing in various games, such as sheet volleyball (teams use a tarp to send a beach ball over the net), guess the music, Uni trivia, and the three legged race. Another subbie, Ethan Mok-Chih, said that Drip Drip Drop was his favorite activity, an adaptation of Duck Duck Goose where the 'goose' gets water poured over their head.
While most of the Subbie Retreat remained the same, there were a few changes this year, including a new focus on engaging activities. Albert Lee, a subbie buddy leader, said they added a lot more small group games to make the event more engaging and inclusive. He mentioned a new game involving the subbies transferring Skittles using spoons held in their mouths. This year's Subbie Retreat was very successful, but Mallika has said that the subbie buddies are considering new ideas to make next year's even better, including adding more hands-on games for people who aren't as physical.